---
Djeco
In 1954 a trailblazing French mother Veronique Michel-Dales started Djeco in the heart of Paris. She gained success with award-winning educational games she created herself. Over 30 years later the mother handed the business down to her son Frederic. Frederic put his heart and soul into the company creating toys that are not only innovative but are also works of art. With a focus on creativity and design, Djeco has grown the range to include craft kits, role-play toys, puzzles and many more amazing additions. Djeco is a reference to the gecko lizard, which is said to bring good luck to the homes of South-East Asia.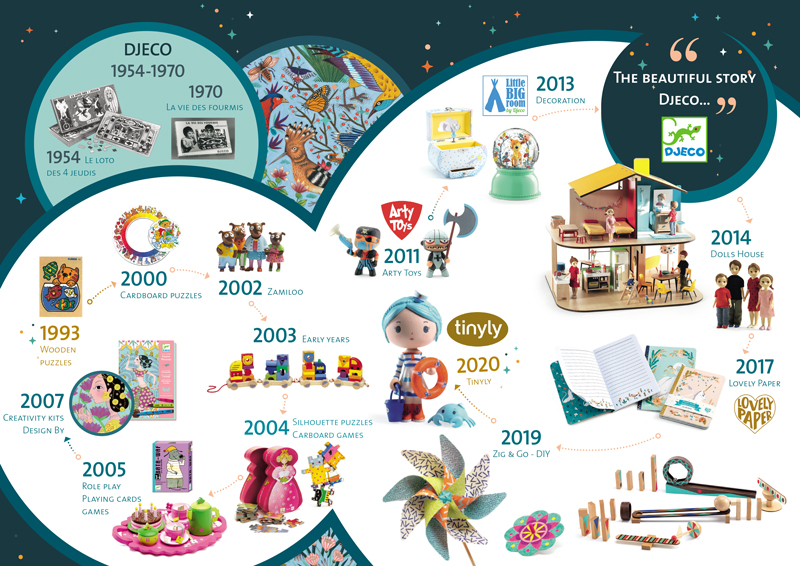 Djeco has a strong commitment to quality control with systematic steps in place to ensure the customer receives a safe and quality product. 
The range has grown to include over 2000 products. Ever since the Djeco adventure began, their range of toys have been translated into every language so that they can be enjoyed by children anywhere in the world. Some of the world's prestigious museums exhibit Djeco toys, including the Louvre and the Quai Branly in Paris, the Prado in Madrid, the Tate Gallery in London, MoMA in New York, as well as many others, in Germany, Denmark, etc.
A large and original range. 
Attention to detail. Products include step by step instructions and decorative packaging. 
Creative and artistic. Djeco partners with artists, illustrators, graphic designers and inventors to create innovative products.
Within the range there are toys to suit all children's interests and creative outlets.